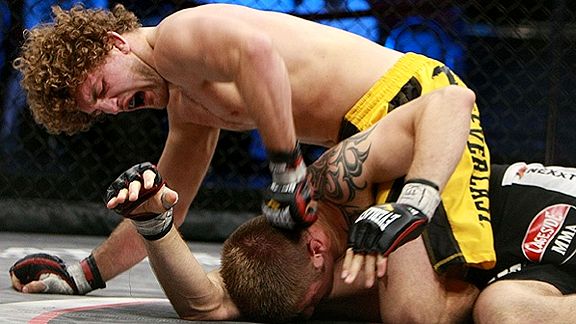 Bellator welterweight champion Ben Askren walked through UFC veteran Nick Thompson at Bellator 40 in a non-title bout this past weekend. The 26-year-old former Olympian revealed after his win that he will finally be making all of the necessary steps to be a full-time mixed martial artist.
The first step: going to Milwaukee to train with Duke Roufus.
"I will, for the first time in my life, be a full-time professional fighter," said Askren at the post-fight presser. "I am gonna move to Milwaukee to train under Duke Roufus. If you thought I was okay now, I might get a little bit better now that it's full-time.

I've been coaching at Arizona State the last couple years for wrestling. It was really hard for me to leave those guys," Askren explained. "I really have a passion for coaching, so it was really, really hard for me to tell those guys 'See ya,' but I'm at the point where I'm trying to fight at a high level.
"I'm traveling every weekend to coach wrestling tournaments, it's hard," he added, "but I figure I'll be in this game three to five more years. I gotta put it in full-time.
"I just really think he's a guy who can take me to the next level, everywhere."
Roufus' camp is currently the home for popular UFC stars Anthony Pettis, Pat Barry and Eric Koch. The real hole in Askren's game is his stand up, and Roufus seems like the perfect choice for Askren if he really wants to improve in that area of his game.
Tags: Bellator Champ Bellator MMA Ben Askren Duke Roufus MMA