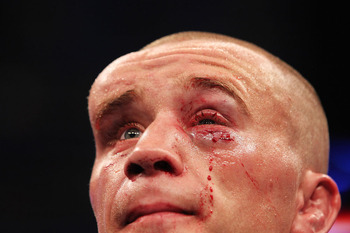 Mark Hominick showed a lot of guts in his UFC 129 co-main event bout against featherweight champion Jose Aldo. Hominick was dominated for four of the five rounds and suffered one of the worst hematomas I have ever seen.
As our friends over at Doc Octagon brilliantly stated, "For a second there, I thought Hominick and his wife were giving birth through his forehead instead of the conventional way."
Now that Hominick has had a few days to recover, he is looking more and more like a human being again. See for yourself, after the jump.

Tags: Jose Aldo Mark Hominick Mark Hominick Hematoma MMA UFC Ufc 129