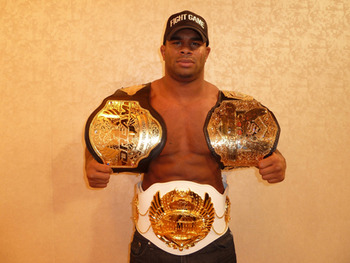 The Strikeforce Heavyweight World Grand Prix will continue the next round of the tournament on September 10th, but it will be without a familiar face. The organization's heavyweight champion Alistair Overeem has been pulled from the tournament.
Overeem was unhappy with the September 10th date and felt disrespected by Zuffa when they threatened to release him from the tournament if he did not agree with their timeline. It appears Overeem did not get his wish, but instead got the axe from the grand prix.
There is no word on whether or not Overeem has been completely released from the organization.
Antonio "Bigfoot" Silva, who was originally slated to face Overeem, will now face the undefeated, former Olympic wrestler Daniel Cormier. The other semifinal remains on schedule with Josh Barnett versus Sergei Kharitonov in a clash of former PRIDE fighters.
Tags: Alistair Overeem Antonio Silva Bigfoot Silva Daniel Cormier Josh Barnett MMA Sergei Kharitonov Strikeforce Strikeforce Heavyweight Tournament Strikeforce Heavyweight World Grand Prix Zuffa