The UFC 170 pre-fight press conference went down on Thrusday afternoon in Las Vegas, with fighters Ronda Rousey, Sara McMann, Daniel Cormier, Pat Cummins, Rory MacDonald, and Demian Maia in attendance to answer questions. The fight that seemed to continue an attempt to spark interest with fans was the co-main event between Daniel Cormier and the relatively unknown-but starting to make a name for himself, Pat Cummins.
It started right off the bat, when Pat Cummins was finished answering his first question posed by the media. Cormier chimed in with his opinion of Cummins' inability to hold the microphone which sparked an exchange of words.
"Patrick hold the microphone up, we can't hear you." Cormier said.
To which, Cummins replied, "Sorry man it's my first time. But listen, I feel like we've gotten really close this past week. So, I'm not going to call you Daniel, I'm going to call you Dan. You okay with that?"
"I'm gonna beat you up on Saturday, are you okay with that?" Cormier replied.
"I'd love for you to come try." Cummins smirked.
Cormier later took another jab at Cummins after being asked if his training camp was difficult without UFC heavyweight champion Cain Velasquez as a sparring partner.
"I was prepared, every training partner that I had could beat Patrick Cummins, so I think I should be okay." Cormier said.
Cormier did put things back to perspective when he explained his mindset going into the fight, regardless of the added emotions.
"The thing is, Pat and I can fight all week and argue all week. But when I step into the cage, I have to be a professional. That's something I've never strayed away from in my whole entire career. I'm going to fight the way I fight, regardless if I'm mad at Patrick or if I'm happy with Patrick, I'm still going to fight the same way. It doesn't matter, I'm still going to fight the same way." Cormier said. "You ever wonder why street fights last 10-15 seconds? Guys are fighting with pure emotion, they can't go any longer, you get tired. So I'm going to be a professional, and going into the cage and do what I've done every single time I've ever fought in my entire career. And that's get my hand raised."
The press conference ended with the usually staredowns between the two opponents, but this time an uncharacteristic Daniel Cormier walked right up to Pat Cummins and shoved him with both hands in the chest.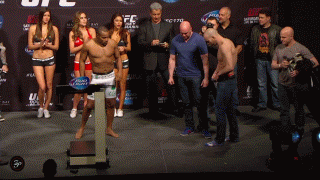 While there could possibly be real genuine dislike between the two former wrestling training partners, one could make a case that the two are selling wolf tickets to hype up an otherwise, not so appealing co-main event. Only Daniel Cormier and Patrick Cummins truly know.
Tags: Daniel Cormier MMA Pat Cummins UFC Ufc 170