For the 3rd time in back-to-back events, the World MMA Awards 2013 Referee of the year, Herb Dean is at the center of a controversial stoppage. It began at UFC 169, when a perceived early stoppage went against Urijah Faber in the main event bantamweight title fight, caused a stir of which many including Dana White and Urijah Faber disagreed with the stoppage. Followed by a late stoppage tonight at UFC 170 when Herb Dean allowed Mike Pyle to continue to beat on a defenseless Anthony "TJ" Waldburger in the 3rd round of their welterweight fight, before finally putting a stop to the action.
The 3rd incident came, once again in the main event bantamweight title bout, this time between Sara McMann and Ronda Rousey. Rousey landed a knee to the liver which caused McMann to crumble to the ground on all fours. However just as it seemed if McMann were just about to attempt to get to her feet, referee Herb Dean had already called off the fight at the 1:06 mark of the 1st round.
Sara McMann took the stoppage very well and like Faber, with a lot of class. Saying post-fight in the cage with Joe Rogan, "It's my own fault".
She followed that up in the post-fight press conference, echoing the same reaction she did in the cage.
"Looking back, like I just watched it on the screen, it did seem kind of quick. Things are slowed down in my head in the cage, like I felt it connect and then my body just moved to protect itself. I heard his voice and I immediately tried to get back up," McMann said. "So I'm not going to blame a referee for something that I feel like I should be able to control, I should get up quicker. And if you want to win fights, you just have to do it regardless of what's going on."
UFC President Dana White also did not place any blame on referee Herb Dean, instead praised Ronda Rousey for the body shot that dropped the challenge. And also rewarding the champion with the Performance of the Night bonus for $50,000.
"Listen guys, I've been in the business a long time. I've seen that happen with Oscar Dela Hoya, I've seen that happen to Dela Hoya and many other great fighters. You get hit in the body like that and regular people who have never been hit to the body have no f—king clue what that feels like. Believe me when I tell you," Dana said. "She went down on her knees and she turned her head the other way. Could Herb have let her take some shots to the face? Definitely. But when the fight happened and I saw it, I said 'aw man, that was–'. Then I watched the replay and when I watched the replay I thought it was a good stoppage."
In defending her UFC bantamweight championship for a 3rd time, Ronda Rousey also achieved her first victory via TKO in her now undefeated 9-fight career. Rousey didn't think it was an early stoppage, and added that she had promised her coaches that she would win by a body shot.
"I didn't think it was too soon, I would've kept going if someone didn't stop me. But that's not my decision. That's why we have a referee in there, make sure no one gets doesn't get hurt more than they need to." Rousey said.
"We spent a lot of time training when we're in the clinch, and not going for the takedown right away. And we were really focusing a lot on body shots, and we were really focusing on knees a lot. And I felt that it would open takedowns a lot more if I focused on the striking first." Rousey said.
"Yeah actually, I promised my coach this time that I was going to drop her with a body shot. We called it, and we trained it a lot. It was just a goal that I had in this fight. I don't like calling it, I don't like saying it to the media or anyone else, like 'oh I'm going to knock this person out'. I always like to keep my mind open to whatever opportunity is there. But to my coach I promised him that I was really going to try. And so yeah I'm happy that I could've done that for him tonight."
Here is the body shot that dropped McMann, and the stoppage immediately following (@ZProphet_MMA):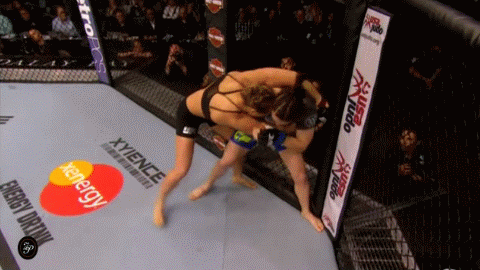 Tags: Dana White MMA Ronda Rousey Sara Mcmann UFC