Dong Hyun Kim told anyone that was willing to listen, that there was going to be a new 'StunGun' and there would be a change in the way he fights. And now he has the honor of being able to say 'I told you so'.
By changing, Kim meant a vastly more aggressive stand up approach–as opposed to his grappling and smothering top game style in the past–leading to knockout finishes, as evidenced by tonight's performance.
"It doesn't matter who my opponent is going to be, there's no changing now," Kim said. "The Koreans are tough fighters, and I am going to continue to press on no matter what. And I'm not going to be afraid of losses."
With the ultimate goal of a UFC welterweight title shot in mind, Kim decided that he needed to change up his style in order to get noticed by the UFC.
"I've been continuing to stack up some wins, but I wasn't given the title shot. And I've decided that well in order for me to get a title shot I've going to have to change the way that I fight. So I decided to get much more aggressive and hopefully I'll get noticed and we'll get a shot at the title." Kim said.
After winning his previous 7 UFC fights via decision, Dong Hyun Kim followed up his knockout victory of Erick Silva at UFC Fight Night 29 in October, with an even more spectacular knockout in the main event of UFC Fight Night in Macau. The rarely seen spinning back elbow knockout earned Kim the $50,000 UFC performance of the night bonus.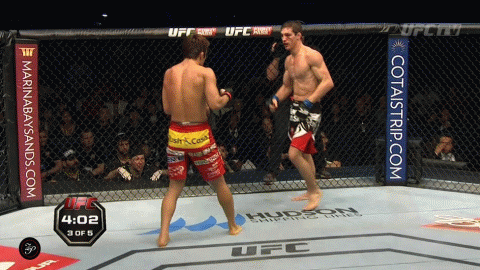 Stungun was a bit surprised by his opponent, John Hathaway, but thought the 17 month layoff affected him.
"I really thought I had the finish early going, but he [Hathaway] stood tough.He kind of surprised me with his wrestling skill. I think that he is a pretty good fighter and he's a good opponent, but he had a lot of time off and that may have perhaps been the reason why he wasn't as sharp." Kim said.
Kim is also confident that he matches up well with the top of the division, specifically in the wrestling and grappling department.
"I don't really care who the opponent is going to be. When it comes to grappling and wrestling, I think I'm one of the best," Kim said. "And I really have no problem going up against Johny Hendricks. When it comes to matching up wrestling grappling, I don't think anyone is going to be able to take me down. And if it's striking, then whoever gets knocked out, gets knocked out. But I'll tell you I will make sure that when I hit somebody that I will be sure that I will knock somebody out."
Tags: Dong Hyun Kim MMA Stungun Tuf China Finale UFC UFC Fight Night Ufc Macau