Early morning MMA fight cards are a welcomed breath of fresh air. It forces you to rise early, as a fan your mind wakes up once the first fight begins, and the event ends early–giving you the rest of the day to yourself. The UFC Fight Night Macau / TUF China Finale card had just 8 fights and they ended in under 4 hours, but boy did they deliver. When it came time to pick three stars for this card, the choices were easy.
3rd star(s): Yui Chul Nam and Kazuki Tokudome
Yes, I'm doing this again, both fighters deserve the 3rd star for the heart and warrior spirit they displayed inside the octagon. "The Korean Bulldozer" Yui Chul Nam, lived up to his nickname. Started 'bulldozing' his way into Tokudome, with his head down coming straight forward throwing wild and often right and left hooks, somewhat reminiscent of one Wanderlei Silva. Tokudome would get dropped twice in the first round and have his eyes badly swollen to begin round 2. With Nam sucking wind due to the pace he pushed in the 1st, Tokudome was able to dominate the entire 2nd on the back of Nam. But Nam would find a 2nd wind in the 3rd round and eventually squeak out a not-so close split decision victory in his UFC debut. Tokudome displayed an absolutely ridiculous chin being able to take haymaker after haymaker from Yui Chul Nam without letting up. And Yui Chul Nam's style, although not suited to go a full 3 rounds, makes for a very entertaining fighter to watch.
2nd star: Vaughan Lee
I had Vaughan Lee all but penciled in as my 1st star after his performance against Nam Phan, and he would have gotten it had not for the main event. Lee played the part of a world class kickboxer in his fight against Phan, the timing, aggressiveness, precision and eluding massive confidence. He started the fight not respecting Nam Phan's striking what so ever, walking straight forward with his hands down and it may have caught Phan off guard. Over 3 full rounds, Lee displayed his much improved all-around striking, not just offensively but defensively as well, Phan was unable to get any momentum in his offensive started during the fight. Lee would earn the decision and continue his streak of alternating wins and losses since he's entered the UFC.
1st star: Dong Hyun Kim
Dong Hyun Kim said–in a recent interview with MMA Junkie–that we were going to see a new 'Stungun' because he changed the way he fights, and boy was he right. Stungun came out of the blocks firing on all cylinders, although not the most technical display of striking, he was able to continually rock John Hathaway with his powerful left hook. Hathaway, who had been on an 18 month layoff showcased rust in the 1st round, but bounced back to control the clinch position in the 2nd. And when the 3rd round came along, Dong Hyun Kim landed one of the more spectacular knockouts ever seen in the UFC, a spinning back elbow knocking out John Hathaway and sending him crashing to the canvas. With his victory, Stungun has now began another long win streak, winning his last 4 bouts–including his last 2 impressive knockouts.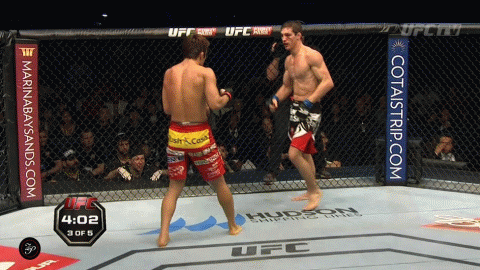 Tags: Dong Hyun Kim Kazuki Tokudome MMA Tuf China Finale UFC UFC Fight Night Ufc Macau Vaughan Lee Yui Chul Nam