The 2nd Bellator event of Season 10, Bellator 111 took place at the Winstar World Casino in Thackerville, Oklahoma. The event features a bantamweight title fight between champion Eduardo Dantas (15-3) defending his Bellator Bantamweight championship for a 2nd time, against 2013 summer series finalist and challenger, Anthony Leone (13-6).
Eduardo Dantas used an absolutely beautiful transition to take Leone's back and secure a rear naked choke for the submission victory to defend his Bellator bantamweight championship for a 2nd time. And was met by his next opponent, season 9 bantamweight tournament winner Joe Warren in the cage after the fight.
In addition to the bantamweight title fight, the opening round of the Season 10 Heavyweight tournament, which features 8 fighters (Lavar Johnson, Ryan Martinez, Peter Graham, Mighty Mo, Alexander Volkov, Mark Holata, Blagoi Ivanov, and Rich Hale) competing for the next heavyweight title shot.
At the end, there were 4 heavyweights remaining and advancing after a couple of knockouts, a hard fought decision, and one surprising submission later. The semifinal bouts were set for a April 4th: Alexander Volkov vs Mighty Mo, and Lavar Johnson vs Blagoi Ivanov. Main Card (9 PM EST,Spike TV)
Eduardo Dantas (15-3) vs. Anthony Leone (13-6)

In the main event of Bellator 111, champion Eduardo Dantas was originally scheduled to face Rafael Silva, but an injury forced him out of the bout, and tournament finalist replacement Anthony Leone stepped in. Dantas was the biggest betting favourite on the card, an 11-to-1 favourite over Leone.
The challenger caught one of Dantas' kicks early and used it to take him to the ground. Leone would utilize a heavy top game from there to neutralize Dantas' very active guard, staying just active enough to keep the fight from being stood up. Over 4 minutes of top control from Leone in round 1.
Dantas came out more cautious in round 2, using his jab to keep the shorter Leone at bay. Dantas attempted a flying knee that Leone would turn into an unsuccessful takedown attempt. Both fighters remained cautious throughout the round with Leone exploding for a takedown attempt late in the round, which Dantas would defend and spin out to take the back of Leone, with one of the most beautiful transitions–hoping over the back of Leone right into a rear naked choke. Dantas quickly secured the rear naked choke with both hooks, and trapping Leone's arm, for the tapout and the defense of his bantamweight title.
Eduardo Dantas def. Anthony Leone via Submission (rear naked choke)–Round 2, 2:04
Zombie Prophet provides the gif of the finish: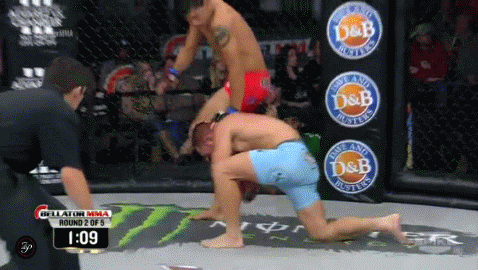 Lavar Johnson (17-8) vs. Ryan Martinez (10-3)

Lavar Johnson enters his 1st Bellator tournament on a 3-fight win streak, having suffered his career knockout, a 23 second knockout in his debut against Vinicius Queiroz. Ryan Martinez, a former tournament finalist, had his 3 fight win streak snapped in the finals against the current Bellator heavyweight champion, Vitaly Minakov.
Lavar Johnson owned an 8-inch reach over his shorter opponent, but Martinez was able to overcome that quickly by getting a hold of Johnson and got him to the ground from the clinch with a throw. Martinez using a heavy top game would remain in the guard and half-guard of Johnson and continually deliver hammer fists and punches. Johnson found a way to separate, getting back to his feet and started swinging for the fences at Martinez. Johnson would connect on several of the huge haymakers, one right uppercut-left hook combo dropped Ryan Martinez and led to the end of the fight in the first.
Lavar Johnson def. Ryan Martinez via TKO (strikes)–Round 1, 4:22
Peter Graham (9-6) vs. Siala-Mou Siliga (5-2)

An intriguing matchup between two long-time veteran professional kickboxers, who ironically had never met in the kickboxing ring, but now meet in an MMA cage. Peter Graham and 'Mighty Mo' did not last long standing, as Mo shot far out for a takedown, easily stuffed by Graham. The Aussie would use his significant reach over Mighty Mo, keeping Mo at a distance as he picked him apart with heavy leg kicks. Mo would march forward and connect with several wide left and right overhands. A pretty even 1st round, with Graham out-landing 21-16, but Mo landing the much heavier strikes.
Round 2 started the same as Round 1, with Mo grabbing a hold of a single leg on Graham, this time getting the fight to the ground. Mo implemented his gameplan, as he was able to keep Graham on the ground for the good part of 2 minutes before Graham was able to scramble back up to his feet. Graham continued to land inside and outside leg kicks on Mighty Mo, leading to a noticeable limp on the Samoan. With 30 seconds left in the round, Mighty Mo was able to land a 2nd takedown, but was that enough to overcome the damage done by Graham?
Round 3, once again Mighty Mo went for the single leg and successfully secured a takedown in the opening minute. With both fighters exhausted, Mo worked towards side control, and secured a head and arm choke, smothering Peter Graham for the tapout.
Siala-Mou Siliga def. Peter Graham via Submission (head and arm choke)–Round 3, 2:31
Alexander Volkov (19-4) vs. Mark Holata (12-4)

The former Bellator heavyweight champion, Alexander "Drago" Volkov on a quest to regain his belt, against Mark Holata who is coming off an 18-month layoff. Minakov felt the power of Holata early, ate a short straight that staggered him back momentarily. Volkov, the tallest fighter in the tournament at 6'7″, would get a hold of Holata in the clinch, and with his back against the fence, land several left hands. All of them accumulated quickly, dropping Holata to the ground and ending the fight in just over a minute.
Alexander Volkov def. Mark Holata via TKO (strikes)–Round 1, 1:21
Prelims (7 PM EST, Spike.com)

Blagoi Ivanov (9-1, 1 NC) vs. Rich Hale (21-6-1)

In the first heavyweight tournament quarterfinal, the undefeated Bulgarian entered his 1st Bellator tournament, while Hale entered his 4th–coming off back to back losses. Both fighters engaged in the clinch to begin the fight, exchanging short blows, with Hale getting the better of the Sambo champion. The fighters would separate for brief moments where the taller Hale would also get the better striking in round 1 by coming over the top of Ivanov.
In the 2nd round, Ivanov was again unable to work his sambo, as his takedowns continued to be stuffed by Hale. But in a turn of events, he pushed forward and uncorked a huge looping left hook that caught and dropped Hale to the ground, Ivanov followed up with a multitude of punches but without the referee stopping the fight, Hale would survive the barrage. Ivanov stopped punching in favor of a guillotine choke attempt, which Hale would defend. The two exhausted fighters ended the round on the feet.
Round 3 saw the confidence begin to grow for Blagoi Ivanov on the feet, leading to an eventual trip takedown of Hale. Ivanov was content to remain on top in Hale's guard to ride out most of the round. Referee Dan Mirgliotta would stand the two fighters up after some inactivity with about 1:30 left in the round. The fight would come to an anti-climatic end as the horn sounded.
Blagoi Ivanov def. Rich Hale via Unanimous Decision (29-28, 29-28, 29-28)
Cortez Coleman (9-3) vs. Daniel Miller (4-2)

Daniel Miller made his Bellator debut against a tough opponent in "The Crazy Cowboy". The grappling based Miller was unsuccessful in getting the fight to the ground, and began to attempt pulling guard. It was ultimately Coleman who decided to take this fight to the ground from the clinch. And began landing ground and pound in half guard before attempting a choke in a dominant 1st round.
In Round 2, Miller once again attempted to pull guard, this time successfully getting the fight to the ground, but he would be stuck on the bottom of Coleman. Coleman transitioned from half guard to crucifix, to mount, to back mount all while doing damage to Miller, before finishing the fight with 11 seconds left in the round, as Miller verbally submitted.
Cortez Coleman def. Daniel Miller via Verbal Submission (strikes)–Round 2, 4:49
Eric Prindle (8-4, 1 NC) vs. Javy Ayala (6-3)

Javy "Eye Candy" Ayala would make quick work of the former Bellator heavyweight title contender Eric Prindle, forcing Prindle up against the fence looking for the takedown. The 2nd attempt at a takedown would be successful for Ayala, getting Prindle to the ground, Ayala then achieved half-guard and remained in the position delivering ground and pound to an ineffective Prindle on the ground.
More of the same in round 2, as Ayala landed two takedowns and remained on top, while Prindle remained like a fish out of water. All the ground and pound left Prindle bruised and battered, his right eye completely swollen shut–was later checked by the doctor in the 3rd and called the fight off.
Javy Ayala def. Eric Prindle via TKO (doctor stoppage)–Round 2, 2:05
Abdul Razak Alhassan (1-0) vs. Matt Jones (4-6)

In a 190lb catchweight bout, Abdul Razak came out aggressive throwing powerful kicks to the legs and body of Matt Jones. Jones would catch one of his kicks and take Razak down, but Razak quickly popped back up. And what followed was just violence. Abdul Razak landed power left-right combinations again and again on Jones, the loud thudding blows could be heard throughout the broadcast. Finally an uppercut would drop Jones to the mat, and Razak finished it with follow up punches, via TKO in round 1.
Abdul Razak Alhassan def. Matt Jones via TKO (strikes)–Round 1, 1:23
Brent Primus (4-0) vs. Chris Jones (8-2)

Primus and Jones exchanged strikes for the first minute of the opening round, until Primus landed a takedown and proceeded to stack Jones on the ground while delivering ground and pound. Primus was rocked by an upkick, but still continued to deliver heavy GNP leading to a early TKO finish.
Brent Primus def. Chris Jones via TKO (strikes) — Round 1, 1:45
Justin McNally (2-1) vs. Chris Gutierrez (1-1-1)

Both fighters clinched up to begin, with Gutierrez taking McNally to the ground. After a brief minute on the ground, McNally worked his way back up to the feet, where Gutierrez remained in the clinch and continually landed knees in the clinch. A left knee to the head of McNally spelled the end, as McNally dropped and Gutierrez followed up with hammerfists for the TKO.
Chris Gutierrez def. Justin McNally via TKO (strikes)–Round 1, 2:50
Quick Results:
Main Card
Bellator Bantamweight Championship: Eduardo Dantas def. Anthony Leone via Submission (rear naked choke)–Round 2, 2:04
Heavyweight tournament quarterfinal: Lavar Johnson def. Ryan Martinez via TKO (strikes)–Round 1, 4:22
Heavyweight tournament quarterfinal: Siala-Mou Siliga def. Peter Graham via Submission (head and arm choke)–Round 3, 2:31
Heavyweight tournament quarterfinal: Alexander Volkov def. Mark Holata via TKO (strikes)–Round 1, 1:21
Preliminary Card
Heavyweight tournament quarterfinal: Blagoi Ivanov def. Rich Hale via Unanimous Decision (29-28, 29-28, 29-28)
Treston Thomison vs. Stephen Banaszak
Cortez Coleman def. Daniel Miller via Verbal Submission (strikes)–Round 2, 4:49
Javy Ayala def. Eric Prindle via TKO (doctor stoppage)–Round 2, 2:05
Abdul Razak Alhassan def. Matt Jones via TKO (strikes)–Round 1, 1:23
Brent Primus def. Chris Jones via TKO (strikes) — Round 1, 1:45
Chris Gutierrez def. Justin McNally via TKO (strikes)–Round 1, 2:50
Tags: Abdul Razak Alhassan Alexander Volkov Anthony Leone Bellator 111 Bellator MMA Blagoi Ivanov Brent Primus Chris Gutierrez Chris Jones Cortez Coleman Daniel Miller Eduardo Dantas Eric Prindle Javy Ayala Justin McNally Lavar Johnson Mark Holata Matt Jones MMA Peter Graham Rich Hale Ryan Martinez Siala-Mou Siliga Stephen Banaszak Treston Thomison