Resurrection Fighting Alliance returned for their 2nd show in 2014, RFA 13: Cochrance vs Escudero at Pershing Center in Lincoln, Nebraska. As the usual with RFA events, RFA 13 once again featured a plethora of young upcoming talent, on a card headlined by two former Ultimate Fighter competitors.
The main event featured the TUF 8 winner, Efrain Escudero (21-7)–making his 2nd RFA appearance on a 3-fight winning streak, against TUF 15's Dakota Cochrane, who fought on 5 of the first 6 RFA events (going 3-2) and now returns to headline their 13th event.
Cochrane would secure double underhooks and take Escudero to the ground early in the first round, where the fight would remain for the entire round. Cochrane was able to remain on top delivering short shots, but not without trouble as Escudero threw up several triangle choke attempts that forced Dakota to defend.
An action-packed 2nd round saw Cochrane take Escudero down, as he was attempting a guillotine choke. Efrain again utilize a very active guard to make this difficult for Dakota to remain on top. Escudero attempted armbars, and a few close heel hook attempts, but Dakota would spin out of it. Efrain would get back to his feet, but not for long, as Cochrane was able to slam him back down to the mat.
The 3rd round saw a complete role reversal for the two, as Efrain Escudero dropped Cochrane with a right hook, and secured his back in the opening seconds, with a body triangle trapping one of his arms. Escudero would continue to deliver short strikes from that position, as Cochrane defended the rear naked choke. The highly entertaining main event would end with a few mad scrambles, seeing Efrain continue to fish for the submission finish, but coming up short. And Dakota Cochrane walking away with the decision victory.
In the co-main event it was announced prior by RFA President Ed Soares that the winner between Miles Marshall (3-1) and Andrew Sanchez (4-0) would take on Kevin Casey for the vacant RFA middleweight champion.
Sanchez started the fight by taking Marshall down and proceeding to land all sorts of ground and pound, punches and elbows that cut up Marshall in the 1st. Sanchez quickly dragged Marshall down in the 2nd round, with control of his back, he would flatten Miles out and eventually after a long period of time that Andrew Sanchez continually threw punches to a turtled up Marshall, the referee would stop the fight.
The younger brother of Anthony, Chidi Njokuani (10-4) made his 4th appearance for RFA, taking on the debuting Chris Heatherly (7-1). In an unfortunate and frightening occurrence, the much larger Njokuani was pressed against the fence by Heatherly, and Chidi landed a downward elbow right to the spine of Heatherly, who went down in pain and was unable to get up. The fight was called off, the referee deemed it not to be an intentional strike, resulting in a no contest. But the attention quickly turned to Heatherly who needed assistance, and had to be stretchered out of the cage.
Commentators Michael Schiavello and Pat Miletich later reported on the broadcast that the doctors think Chris Heatherly had suffered a broken rib, but refused to go to the hospital.
Zombie Prophet provides the GIF: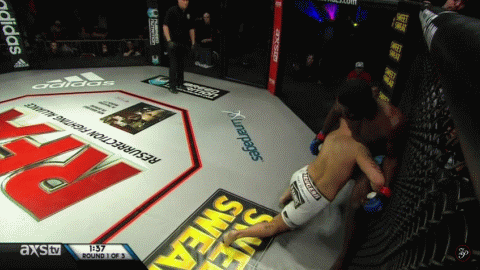 The first of two fights on the card that featured two undefeated fighters with identical records, Luke Sanders (6-0) came back from losing a hard fought first round, to win the next two and defeat Jake Moret (6-0) via unanimous decision.
Another battle of undefeated fighters when T.J. Hepburn (2-0) took on Ryan Shell (5-0), the lesser experienced Hepburn surprised a few by earning a unanimous decision over Shell.
In the opening card of the main card, Darrick Minner (7-3) found himself stuck on the bottom of Austin Lyons (10-2), but beautifully and methodically transitioned into an armbar for the tap.
Quick Results:
Main Card (10 PM, AXS TV)
Dakota Cochrane def. Efrain Escudero via Unanimous Decision (29-28, 29-28, 29-28)
Andrew Sanchez def. Miles Marshall via TKO (strikes)–Round 2, 1:25
Chris Heatherly vs. Chidi Njokuani — N0 contest (unintentional illegal elbow to the spine)–Round 1, 3:31
Luke Sanders def. Dan Moret via Unanimous Decision (29-28, 29-28, 29-28)
T.J. Hepburn def. Ryan Shell via Unanimous Decision (30-27, 30-27, 29-28)
Darrick Minner def. Austin Lyons via Submission (armbar)–Round 1, 3:39
Preliminary CARD (Untelevised)
William Joplin def. Chad Obermiller via Unanimous Decision
Tags: Andrew Sanchez Austin Lyons Chidi Njokuani Chris Heatherly Dakota Cochrane Dan Moret Darrick Minner Efrain Escudero Luke Sanders Miles Marshall MMA Popuar Resurrection Fighting Alliance Rfa Rfa 13 Ryan Shell T.J. Hepburn