Legacy Fighting Championship 29 took place Friday evening at the Hard Rock Cafe & Casino in Tulsa, Oklahoma. The card was originally supposed to feature a featherweight title fight between champion Leonard Garcia and Howell, but a few hours prior to the event, Howell had fallen ill and due to the flu, could not compete. Thus, the light heavyweight title fight between Paul Buentello and Myron Dennis was bumped up to the main event.
The former UFC and Strikeforce heavyweight title contender, 48 fight veteran, 40 year old Paul Buentello dropped down to Light Heavyweight and was looking to capture his first championship in MMA since winning the King of the Cage Heavyweight championship in 2003. Taking on a much younger fighter in his 2nd fight at 205 lbs, 24 year old Myron Dennis making his Legacy debut.
Buentello would execute an overwhelming work rate in the 5-round title fight against Myron Dennis, his constant pressure and boxing–landing to both the head and the body of Dennis–kept Dennis from mounting little offense of his own. Buentello found himself in trouble in the 3rd when Dennis had hurt him with a couple shots but 'The Headhunter' later recovered. Buentello's pace did not seem to slow at all during the fight, looking the same in the 5th as he did in the 1st. Dennis' leg kicks did pay dividends in the 5th, when they finally took a physical toll on Buentello. The bell sounded to end the fight, it seemed as if Paul Buentello had this one in the bag, however the three judges scoring at cageside did not see it as such. Awarding Myron Dennis with the split decision and crowning him the new Legacy Fighting Championship Light Heavyweight champion.
Also on the card, was former TUF 12 winner, now flyweight, Jonathan Brookins, who returned to MMA after over a year hiatus from the sport following his release by the UFC. Brookins would have a successful flyweight debut defeating opponent Cody Fuller via rear naked choke in the 2nd round.
GIF courtesy of ZombieProphet: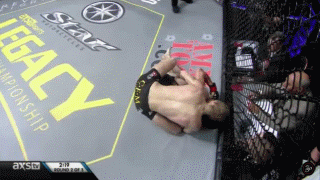 Full Legacy 29 Results:
Main Card:
Myron Dennis def. Paul Buentello via Split Decision (49-46, 47-48, 49-46)
Jonathan Brookins def. Cody Fuller via Submission (rear naked choke)–Round 2, 3:02
Chris Pecero def. Thomas Longacre via Unanimous Decision (29-28, 30-27, 29-28)
Andrew Todhunter def. Art Parker via Submission (rear naked choke)–Round 1, 4:05
Jerod Spoon def. Daniel Hauenstein via TKO (punches)–Round 2, 1:04
Preliminary Card:
Zac Church def. Brandon McDougal via Submission (brabo choke)–Round 2
Jarrett Rouse def. Larry Garcia via Submission (armbar)–Round 1
Daryl Wilson def. Joshua Anderson via Unanimous Decision
Blake Nichols def. Josh Parrish via TKO–Round 1
Clifton Harris def. Aaron McKenzie via Split Decision
Tags: Jonathan Brookins Legacy Legacy 29 Legacy Fc Legacy Fighting Championship MMA Myron Dennis Paul Buentello