The former top women's boxing champion, Holly Holm (7-0) remained undefeated and captured her first championship in MMA, the inaugural Legacy Fighting Championship by defeating Juliana Werner (7-4) at Legacy FC 30, which took place at the Route 66 Casino in Albuquerque, New Mexico on Friday evening. Holm came into this fight a -2300 favourite over her opponent according to the betting odds.
The fight started off with Holm measuring her distance and using her range effectively against the smaller Werner. Holm continue to throw a high quantity of push kicks to keep Werner out of her striking range. By then there was already a clear skill difference between the two strikers. Holm turned things up a notch in the 2nd round beginning to piece together combinations–most of which ended with a kick to the body or head. A left body kick would hurt Werner as she physically showed by favoring her right side. This lasted over 4 rounds as Holly Holm continued to outclass her opponent in the stand up, and Werner had no answer for any of her strikes. But credit to Juliana Werner for continuing to take such lethal kicks and punishment while staying in the fight.
Then came the fifth round, when Holly Holm finally put an end to things with what commentator Michael Schiavello called "The Big Kabosh!", Holm set up her right hook, left roundhouse kick combination that landed flush and knocked out Juliana Werner at the 1:50 mark.
GIF courtesy of Zombie Prophet: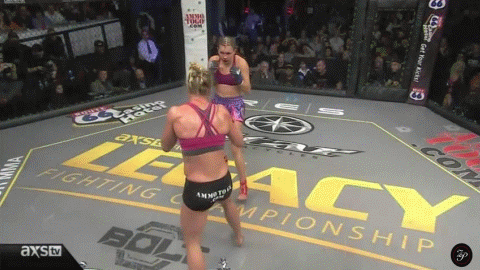 When it looked like Holm could have finished Werner in the 2nd round after a body kick that visibly hurt her opponent, afterwards Pat Miletch asked her in the ring post-fight, "You know what, I want to be around you guys as long as possible, so lets say that," Holm said to her hometown crowd in Albuquerque.
When asked if she had been setting up the head kick that finished the fight, Holm said, "We don't focus on it, but it was there."
And finally there were talks leading up to this fight from her coach, Mike Winklejohn of a possible match between her and Invicta FC featherweight champion, Cris "Cyborg" Justino being put on PPV, Holm was asked about that as well, "I think very highly of Cyborg, even outside of the ring," Holm said, "It would be an honor to share the cage with her."
Tags: Holly Holm Juliana Werner Legacy Fc Legacy Fc 30 Legacy Fighting Championship