UFC Hidalgo: Belal Muhammad Looking for More Bonus Money
UFC Hidalgo will feature the second entry into the Octagon career of Belal Muhammad, who gained many fans after his "Fight of the Night" debut.
Belal Muhammad is a former Titan FC champion that moved to the UFC on short notice to take on the very talented Alan Jouban. Despite being knocked down three times, Muhammad came back to dominate (and nearly finish the fight in) the third round.
It was the first loss in the 10-fight career of Muhammad, but many fans will "Remember the Name" from here on out.
This weekend, Muhammad takes on Augusto Montano at UFC Hidalgo. Muhammad took some time out of his training camp to talk to Cage Pages about his upcoming fight, the debut experience, and much more.
Augusto Montano is 15-2 in his MMA career with all of his wins coming via stoppage. The impressive record does not worry Muhammad though.
"I plan on doing what I do with all my fights. I bring pressure forward. Not a lot of guys are good when you're in their face the whole time and throwing. I plan on breaking him with that pressure."
That might seem like a generalized gameplan, but Muhammad is not one for specifics in the fight game.
"I'm not a big studier. My coaches will watch the fights and give me their points of view on the fight and what they think I should do with it. I'm don't like to sit there and think about my opponent a lot. I like to work on myself and get better instead. I feel like when I'm the best I can be, I can beat anybody in the world."
An interesting aspect about this fight is the fact that Ramadan is now over, and Muhammad, a practicing Muslim, fasted during his training camp to fight Jouban.
"It feels a lot better. Especially that I'm able to drink between rounds. I'm feeling good, I'm feeling fresh. Just ready to get back in the cage."
Although Muhammad steadfastly denied the effect fasting had on his first training camps in prior interview, one has to wonder what difference it made in his fight with Jouban, and what a rematch would look like with a fresh Muhammad. However, Muhammad has his goals set elsewhere than another dance with Jouban.
"Yeah I would definitely want that rematch. I know I have to work my way back up, but it's not one of those where my eyes are set on him. I'm setting my eyes on a title. So hopefully I'll win this one, win one or two more after, and hopefully pop into the rankings quick by next year."
There has always been the theory of Octagon jitters for debuting fighters, but Muhammad believes past experience prepared him for the big stage.
"I didn't really feel it. I'm really good under pressure. I literally fought for Titan FC like a month before that and that was for the title in the main event against Steve Carl, it was a big show. I think I was more relaxed in my UFC debut because I went through that. It wasn't the same type of arena but it was the same type of experience. Even though it's the UFC in Vegas, the biggest stage in the world, when I walk to the cage it's just tunnel vision. I'm not looking at the crowd or getting nervous or anything like that."
Belal Muhammad earned the Titan FC welterweight before getting that UFC call. The Roufusport and Chicago Fight Team product won all three of his fights with Titan, and believes the level of competition he faced there made his UFC debut that much more competitive.
"I like what they're doing over there. I saw their last card (Titan FC 40 at the time of the interview) was a really good, huge event. They're really good guys. I think they've sent six or seven guys to the UFC within the last month. To all the young fighters out there, I would go to Titan right away. They're bringing you the top guys who want to fight, guys who are going to get you ready. There are these companies out there who will put you against bums and cans, then when they get to the UFC they get killed. Titan FC puts you against good opponents, so you're able to prepare yourself for the bigger show."
About that UFC call, Muhammad actually received another one before making his debut, but it turned out a replacement was not necessary for that fight.
"It was exciting. They actually called me three weeks earlier than that to fight Rick Story, but his opponent, Tarec Saffiedine, ended up not pulling out. I accepted that one and it was on even shorter notice than this one. So I at least had a four-week camp for the Jouban fight. But I'm always training, I'm always staying in shape. I'm not even that big of a welterweight so I don't cut a lot of weight, I didn't have to drain myself or anything like that.

I'd actually rather have a short notice fight just because I'm more comfortable that way. I don't have to go through a whole grueling camp. Camps take a lot out of you. A lot of guys get hurt during camp. You always have these small injuries. So when it's a short notice fight you're chilling and not pushing yourself until you get the call. From there all I need to do is shed the weight and maybe jog a little to get my cardio back up."
Belal Muhammad trains with two fight teams, which only helps diversify his game.
"I'm in the middle of Chicago and Roufusport so I go train at both places. I train at Chicago Fight Team with Louis Taylor mainly, then I go to Roufusport two or three times a week."
Muhammad has actually had a connection with his trainer, Louis Taylor, since high school. He also played a major role in the birth of Muhammad's MMA career.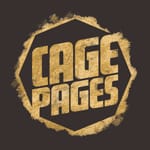 "I used to wrestle in high school, and ended up going to college at U of I. I came back from there one summer and my old high school wrestling coach, Louis Taylor, was in the newspaper. He was fighting for Strikeforce headlining a card, and I hadn't seen him in three years since high school so I ended up messaging him about his fight, and he invited me to the gym. So I went to go check out the gym. I never tried the sport before, but I always loved watching it. I never really trained boxing, kickboxing before I got in touch with him again. So he introduced me to the sport."
In addition to his training at Chicago Fight Team, Belal Muhammad's time at Roufusport has been incredibly beneficial to him.
"It's great over there. I've learned so much from the coaches there. They've taken my game to a whole new level. Especially having those training partners like Mike "Biggie" Rhodes, Sergio and Anthony Pettis. All those guys you think would be cocky, but when new guys come in, they're the humblest dudes sitting there and trying to help you out. Everyone's helping each other out. It's the perfect environment.

I've been in gyms in the past where guys are trying to knock you out. Especially when you're a new guy coming in. They're gonna try to show you that their gym is better than yours. You're not going to come into their house and beat them up, that type of thing. Roufusport is really the perfect environment. The best coaches, the best training partners, and everyone is helping each other out."
Lastly, Belal Muhammad earned an extra $50,000 for his effort against Alan Jouban, and looks to put on another bonus-worthy performance on Saturday.
"I'm trying to finish him in the first round. I got a "Fight of the Night" bonus for my first fight, I plan on getting a "Performance of the Night" bonus this time around. I plan on ending this early."
Muhammad already knows what would happen with that bonus money.
"I actually haven't spent the original bonus money yet. I'm a big saver, not a big spender. Hopefully in the future I'll be able to open a gym with my saving money or something."
You can see if Muhammad adds to that stack of bonus cash at around 9:00 p.m. EST on FOX Sports 1 during the UFC Hidalgo preliminary card. Muhammad will have a fire under him, seeking his first UFC victory.