UFC Denver: Donald Cerrone Burning the Candle on Both Ends
Donald Cerrone is already back in action at UFC Denver, but in the heavy-hitting welterweight division, he may be burning the candle at both ends.
Donald "Cowboy" Cerrone is the definition of a fan favorite in today's UFC. He will fight anyone, anywhere, at any time, and almost always puts on a show. Cerrone was a fighter of the year candidate in 2016, putting on four amazing performances at welterweight after having competed as a lightweight for his entire career.
After knocking out Matt Brown in early December, it would have made sense that Cerrone had his sights set on the elite of the division. While champion Tyron Woodley and Stephen Thompson have business to settle at UFC 209, Cerrone finds himself locked in the race for the next shot with fellow top contender Demian Maia. Compared to the Brazilian Jiu-Jitsu ace, Cerrone could get the nod for the fact that he is nearly twice as active and has a tendency to engage in exciting bouts.
Instead, Cowboy will be facing Jorge Masvidal in a high risk/low reward fight in the co-main event of UFC Denver. Masvidal is 8-4 in the UFC but is perhaps best-known for being on the wrong side of two important fights.
He lost in his bid for the Strikeforce lightweight title against Gilbert Melendez and was the victim of the submission of the year against Toby Imada and the inverted-triangle. Even so, "Gamebred" has carved a name for himself in the UFC ranks with victories over Michael Chiesa, Ross Pearson, and Jake Ellenberger. In his most recent victory over Ellenberger, Masvidal called out Cowboy to see if he truly would take on all comers. The UFC obliged his request and now Cerrone is risking a place on the welterweight short list in the co-main event this Saturday.
Cerrone fights frequently and makes no secret of his desire to compete on huge cards whenever possible. After defeating Brown in December, he made his desires clear that he wanted to compete in his hometown of Denver only several weeks later. Without a big name to pair him with, Masvidal was given the bout. Now, part of Cowboy's appeal is that he truly does not care about titles or rankings as much as he does getting into the cage to fight.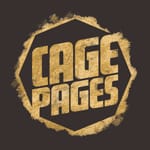 But, at 33 years old, the growing question at this stage is how long Cerrone can continue to keep up this pace in the welterweight division. He's seemingly been in the sweet spot of his career for the better part of the last several years, a perfect blend of athleticism and experience. However, the fight against Brown revealed a different kind of issue. Despite Cerrone having vastly more tools, it was clear Brown's power was a dangerous equalizer. Cowboy ended the fight in exciting fashion, but it was only after connecting on several times on the chin of "The Immortal."
Cowboy is once again a win or two away from a shot at the world title, but the top of the division is loaded with athletic heavy-hitters like Woodley, Thompson, Robbie Lawler, etc. For as active as Cerrone is, his way to championship gold is tougher than it has ever been. He's a more agile fighter at 170 than he was at 155, but it remains to be seen if that will be enough to capture the title.
Masvidal is the perfect kind of fighter to derail Cerrone's ambitions. He's on a two fight win-streak with little to lose against Cowboy. It should be noted, Masvidal is a former lightweight who has moved up to welterweight and will look to be a faster opponent than Cerrone has faced since he began his latest run. Stylistically, it's an exciting match-up as both fighters prefer to come forward and trade in the center of the Octagon. Despite the women taking center stage in Denver, it's the Cerrone-Masvidal match that is the pick for fight of the night.
Cowboy has a legion of fans because the consequences don't matter to him. If he loses quickly on Saturday, he could very well be back to fight in February. That is simply who he is. In that way, Cerrone is definitely burning the competitive candle at both ends. But it's obvious he's enjoying the rodeo for as long as it lasts.