UFC 212: Jose Aldo vs. Max Holloway Breakdown
With the UFC featherweight unification bout upon us, it's time to breakdown this spectacular fight.
With UFC 211 being stacked from top to bottom, and multiple big fights being announced this May, this card has been severely under marketed.
Before Connor McGregor, Jose Aldo was the unanimous 145-pound king. He destroyed everybody the UFC put in front of him in spectacular fashion and always stayed humble. After his shocking loss to Connor and some questionable remarks to the media, Jose Aldo has fallen off with the fans.
For years now Max Holloway has been the most underrated guy at 145 and just recently got the casual fans attention with the performance of his career against former lightweight champion Anthony Pettis.
For the average fan this might look like a boring fight between two guys who have already lost to McGregor; for the hardcore fight fan, this is one we have been salivating over for some time now.
The keys to victory for each man are pretty simple, and whoever manages to stick to their gameplan the closest, will win.
Jose Aldo
Striking
Jose Aldo has been one of the most feared strikers in the featherweight division for many years. His performances over Uriah Faber, Chad Mendes, and most recently Frankie Edgar are striking masterclasses and showed the world how dangerous a high-level striker can be when he learns proper takedown defense.
The Pivot and Counter
Although Aldo's Knockout reel is leading attacks, he is much more comfortable and successful when playing the Matador rather than the bull.
When his opponent comes forward, Aldo is a master at pivoting off his lead foot at a 90-degree angle leaving his opponent whizzing past him or stopping in their tracks leaving them unable to defend attacks from Jose's now dominate angle, just like the Bull and Matador.
The principle of bullfighting is that a charging bull can't turn and change direction on a dime, and once you are past its shoulder it's unable to turn and hit you.
This principle also applies to MMA, and Aldo is an expert at using this to find a dominate angle and return with strikes of his own. He will often jab or lead hook off the pivot but will sometimes throw his simple, but favourite combo, the 1-2 leg kick that has graced his YouTube highlight reels since the WEC days.
The last few fights he has seemed to lay off the leg kicks, especially against wrestlers. But his power and ability to set them up with combos allows him to have the most feared leg kicks in the game. Don't believe me? Wel,l let's just ask Ricardo Lamas about those leg kicks. The retreating counter
The retreating counter also called back stepping or back skipping counters, are the most common counter in combat sports and was made popular in MMA due to the success of Anderson Silva using this concept.
Earlier in his career, Aldo elected to stuff a jab in his opponents face as he was retreating to stop their forward motion instead of taking a step back, planting and countering. In his most recent fight with Frankie Edgar, he adopted the retreating counter and often looked to land a back stepping counter right similar to McGregor's back stepping counter left that he is now well aware of.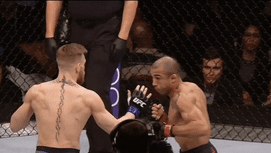 Retreating counters work best when the fighter moves their head off center line, or take a slight step laterally to give themselves a better opening and to avoid any counters coming back. Aldo has the habit of dropping his hands and keeping his chin wide open when retreating and has been exploited a few times in his career.
Another interesting aspect of Aldo's countering game are his intercepting knees and uppercuts. Like I said before, Aldo has a high fight IQ and can read his opponents perfectly.
Since Aldo is a striker his opponents try to take him down and instead of sprawling on every attempt, Aldo has learned to time his knees and uppercuts to catch his opponent as they are level changing. Occasionally he will throw a flying knee as his opponents are level changing but usually will throw his back knee in the air and catch them on the chest as they are coming in.
Grappling
Neither fighter is known for their grappling but what Aldo is known for is his outstanding takedown defense. He defends an astounding 92.31% of takedowns and has only been taken down six times in his UFC career.
His hips are very strong and allow him to sprawl out against some of the best wrestlers in the division like Frankie Edgar and Chad Mendes. Going back to the pivot, when his opponents try for a single leg he will pivot on the leg that is wrapped up and limp leg out of his opponent's grip.
He is also adept at getting under hooks as his opponents takes him down and will drive knees into their body and chest and sometimes even throw them off making his opponent look like a helpless child.
Offensively his grappling is above average but he rarely relies on his top game unless he is hurt or rocked. His fights with Mark Hominick and Chan Sung Jung where he was injured during the fight, we saw him succeed with multiple takedowns and was very impressive with his ground and pound from top despite being injured.
Max Holloway
Striking
Whether it's lack of marketing or the popularity of Jose Aldo and Connor McGregor, Max Holloway has been flying under the radar his entire career. He is one of the slickest boxers in the game today and is the only person to ever take striking savant Connor McGregor to a decision. after this fight, I have a feeling Holloway will become a fan favourite.
A true switch hitter
Switch hitting is the rarest of skills in combat sports and especially in MMA. We have seen people like Anthony Pettis, Joanna Jedrzejczyk, and Anderson Silva be comfortable fighting out of both stances but none are true switch hitters.
To be a true switch hitter you have to be able to hide your stance switches in motion and between combos. Today, only Max Holloway, Tony Ferguson, Dominick Cruz, and TJ Dillashaw are true switch hitters in the sport. Early in his career, Max would fight out of either southpaw or orthodox depending on his opponent. His fight with Cub Swanson showed his ability to switch back and forth throughout the fight and is arguably his best performance of his career.
When you can switch stances during the fight, you are opening up a variety of attacks that you can choose from which in turn overloads your opponent's reactions due to all the openings in each stance. When an orthodox fights an Orthodox you know what to look for in terms of offense and defense. But when your opponent switches to southpaw a whole realm of possibilities opens up.
If you can constantly switch between stances, openings are continually changing which allows you to have options for attacks. If you can hide the stance switch in-between combos or while circling, you can make your opponent think you are in one stance then come in with an unexpected attack from the other stance.
Although he gets caught with a left hook at the end, this sequence shows how to successfully hide your stance switches in motion. Holloway starts in southpaw, fakes a leg kick to switch to orthodox, throws a 1-2 and switches back to southpaw while getting hit with Cub's check left.
Here Holloway starts in orthodox, feints a front kick while throwing a jab to step into southpaw and come back with a left straight.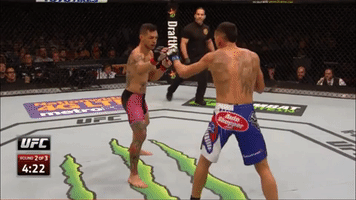 This GIF shows why Holloway is one of the best strikers in the UFC right now. He starts with a back leg high kick, steps back to reset, jumps into southpaw and lands two beautiful hooks to the body then steps back resets again and comes in with a 1-2.
When Max is light on his feet, moving his head, and switch-hitting there is no one in the division that can out strike him. But we have seen a different Max Holloway before, the one that is obsessed with the knockout or highlight reel finish. Sometimes he will get flustered, stay in one stance and throw wild hooks and spinning kicks rather than fighting smart. Another interesting feature Holloway has added to his game is the use of the traditional Karate low line side kick. After his fight with McGregor where Connor used this same kick to drop
Another interesting feature Holloway has added to his game is the use of the traditional Karate low line side kick. After his fight with McGregor where Connor used this same kick to drop Holloway's hands and open up other strikes, Max adopted this kick and has become a staple in his offense. In his fight with Pettis, Holloway threw the low line side kick and low line feints multiple times to set up other strikes and even used it to set up the only knockdown of the fight.
The low line kick is not widely used in MMA but fighters like Wonderboy Thompson, Lyoto Machida, and of course Lando Vannata have shown how useful it can be as a setup and feint.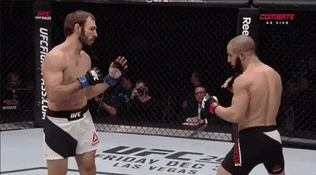 Grappling
We have seen very little of Holloway's ground game offensively or defensively and only has 4 takedowns in the UFC. We have seen him have the ability to quickly get up once taken down, and is about average offensively. He is a purple belt in Jiu Jitsu under Rylan Lizares but has no known wrestling background or dedicated wrestling coach. nevertheless, I don't think this fight will hit the ground, but if it does Max could have a serious disadvantage.
Conclusion
In conclusion, this is going to be a spectacular title fight on one of the most under-marketed cards of all time. Aldo has the championship experience, superior countering game and an advantage on the ground.
But when Holloway is at his best I have a hard time seeing anybody out striking him. If Aldo is smart he should look to hammer the leg kicks to slow down Holloway's forward pressure and stance switching, especially since there is almost no threat of the takedown. I would also like to see him go for a takedown of his own and see if he can beat him from top position and maybe even use the Jiu Jitsu he used to be so highly touted for.
For Holloway, he should look to move laterally and use his outside boxing and avoid being bullied into trading in the pocket with Aldo. He also needs to keep him guessing with his stance switches and avoid the barrage of leg kicks Aldo will probably be looking for.
The loss to McGregor did a serious number on Aldo's mental state but his most recent fight with Edgar showed he has the ability to learn from his losses and adjust his game plan accordingly. Add in the fact he trains with the best in the world at Nova Uniao and has cleared out the division, I'm taking Aldo by split decision.