UFC Mexico City results: Rani Yahya captures first-round submission win
Rani Yahya continued to showcase his jiu-jitsu and submission skills, as he picked up a big win at UFC Mexico City after a first-round finish.
It was more than a year since Rani Yahya picked up a submission victory. He came into this fight with 23 wins, 18 of them by submission. Yahya managed to change that after he submitted Henry Briones.
Yahya and Briones both got into it quickly, the fight was taken to the ground twice within the first minute of the fight. It was Yahya winning the fight early, being in the top position and hammering away with some shots to Briones.
Yahya displayed beautiful jiu-jitsu and wrestling while setting up the win over Briones. While using his hands to lock in Briones' left hand, Briones was trying to use his legs to wrap up Yahya's legs, preventing him from moving.
But Yahya scrambled out of that and moved around to put himself in better position to go for the kimura. Yahya went for the submission attempt, quickly forcing a troubled Briones to tap out. Showered by boos after defeating Briones in front of his home country of Mexico, Yahya celebrated on top of the cage, briefly embracing the villain role in the venue.
Both fighters entered the fight coming off a loss. Yahya lost to Joe Soto in March while Briones came in losing two straight bouts. It was Yahya who bounced back to the win column while Briones drops his third straight fight and is winless in four of his last five matches.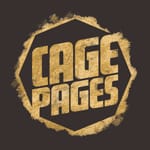 Yahya improved his record to 24-9 (1) while Briones falls to 16-7-1. Yahya fought right after Jose Quinonez, who picked up a unanimous 30-27 decision victory over Diego Rivas. A fight between these two a few months from now could make the most sense, given the timing. Both fighters could make a strong case in the bantamweight division one can beat the other.