UFC 214: Daniel Cormier suffering from memory loss
Jon Jones and Daniel Cormier met at UFC 214 in one of the most anticipated rematches in UFC history.
Nearly two weeks removed from his KO loss at UFC 214, Daniel Cormier still has large memory gaps.
There has been a large amount of conversation this year on head injuries and their long-term effects on athletes. In July a Boston University study revealed 99% of former NFL players tested, had some degree of CTE.
Many, including UFC commentator Joe Rogan, have wondered about the effects felt by boxers and mixed martial artist. While the long-term is still unknown, former light-heavyweight champion Daniel Cormier has offered more evidence of the short-term effects.
On Jul. 29 Daniel Cormier attempted to defend his title for the third time against bitter rival Jon Jones, who had been absent from the sport for the better part of two and a half years due to various legal issues and a USADA test failure.
While the fight was extremely competitive in the first two rounds, Jones landed a vicious head kick in round three and finished a disjointed DC with punches on the ground.
Daniel originally protested the stoppage not realizing that he had been fully unconscious in the octagon when ref John McCarthy waved off the contest.
Speaking for the first time since his defeat with Ariel Helwani on The MMA Hour, he revealed that he is still missing his memory for up to 15 minutes after the fight.
"I'll be honest with you, I'm still missing time. Like, I don't remember any of that. I don't remember leaving the Octagon. Some of these photos where I was crying and I was hugging Bob (Cook), I don't remember any of that.

"I remember when I was in the back, they said 'you have to go to the hospital.' I'm like, for what? I just am still missing time. I'm missing probably, I don't know, 10 minutes. I talked to Dana (White) and I said, 'I'm sorry if I pushed you,' because I remember they said I pushed somebody."
It's easy for us to get lost in the competition and pageantry of mixed martial arts. It's a pure combat sport with an unlimited amount of paths to victory. However, it is very important to remember that we are dealing with human beings that happen to be high-level athletes.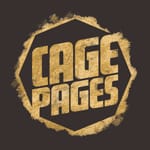 Conversations and moments like these are important to remind us of the human element to fighters and what they risk for our entertainment. I truly hope Cormier takes at least six months off to let his brain recover from the trauma it endured.