Polaris 5: Gary Tonon defeats Dillon Danis in highly anticipated rematch
Polaris jiu-jistu tournament held it's fifth installment today in London, England headlined by a rematch between Gary Tonon and Dillion Danis.
New York jiu-jistu black belt Dillon Danis fell short in his quest for revenge against fellow black belt Gary Tonon Saturday afternoon at Polaris 5 which aired live exclusively on UFC Fight Pass. The two Americans first faced of in 2015 at ADCC where Tonon secured a heel hook at around the eight-minute mark. There has been a contentious rivalry between the two combatants over the last couple years, including comments exchanges over social media and in interviews.
For Danis, widely know for his association with UFC lightweight champion Conor McGregor, this marked yet another defeat in what has been a difficult year for the 23-year-old. The Marcelo Garcia product was kicked out of his gym for his braggadocios bravado, lost both his first round contest a worlds this summer, and was coming off a loss to Jake Shields at Chael Sonnen's Submission Underground 3. Needless to say it's been a trying year for the youngster.
As for the Renzo Gracie product Tonon, this marks his fourth win in a row and his 10th in his last 11 contests. Tonon has been extremely active as all 11 contests have taken place in the last year and a half. While the fight saw neither fighters come close to securing a submission, Tonon's pressure and constant attacking guard led to him securing a unanimous decision.
Also on the card, Jake Shields returned to action for the first time since defeating Danis in overtime and took home a win over Don Strauss. Shields pressured often and secured several take downs while Straus seemed content to stay in his guard looking for openings that ultimately never came.
England's Brad Pickett made his first grappling appearance after retiring from the UFC four short months ago. The Brit nearly pulled off a slight upset against judo specialist Phil Harris but lost a split decision after losing a point for an illegal slam from a defensive guard. In the post fight interview Pickett expressed that he plans on competing a more grappling tournaments going forward.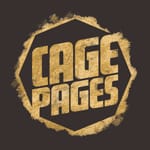 The afternoon also saw controversial grappler AJ Agazarm secure a beautiful collar choke against Llyod Cooper in front of a hostile hometown crowd. In true form, Agazarm blamed to crowd for Copper's loss saying they mistakenly convinced him that he had a chance. Needless to say, it was another amazing event at one of the best submission only grappling tournaments in the world.