UFC Rotterdam: Alexander Volkov finishes Struve in Netherlands
In the main event of UFC Rotterdam, Alexander Volkov and Stefan Struve put on a show but Volkov was the one who scored the finish in Struve's backyard.
Alexander Volkov was looking to make a statement in tonights UFC main event. Volkov was very well known while he was in Bellator for his finishing ability, as seen in his 18 first round finishes. Volkov has won his two previous UFC fights, but tonight looked to show his finishing ability and send a message to the heavyweight elite that he is here for the title.
Stefan Struve was ready to take the next step going into the main event. The tallest fighter in UFC history holds a win over Stipe Miocic but had long been regarded as a stepping stone as he could never put it together and get himself a chance at title contention. This time, however, he carried two massive wins into the octagon with him, and now could really propel himself up the rankings and seriously start contending for the title soon.
Struve established his jabs and low kicks early on and used it to keep Volkov at a distance early on. Volkov got caught multiple times by the reach of Struve, but Volkov caught the kicks of Struve to close the distance, which Struve caught onto eventually. Struve continued to show some much-improved striking throughout the round but gave up a takedown and Volkov hammered him all the way until the bell.
A massive gash was on the face of Volkov at the beginning of round two, and the two exchanged back and forth until an early eye poke from Struve stopped the action briefly.
The fight continued at an outstanding pace throughout the round. However, After the exchanges, Volkov began to look tired as he couldn't breathe through his newly found broken nose.
Struve poked Volkov in the eye again, but no point was taken and the fight continued. Volkov began to come on strong at the end of the round, busting up the face of Struve late.
Yet another eye poke began the round, this time from both fighters at the same time. Volkov's jab was a very effective weapon, setting up his right hand that would constantly slip the defense of Struve. Struve quelled the pace down slightly as he began to breathe heavier as the round went on, and it gave Volkov the opportunity to close the distance and slip more shots through Struve's defense to drop him, and eventually finish him for his first finish in the octagon.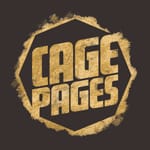 With this win, Alexander Volkov could possibly find himself in title contention come monday morning when the rankings release. If nothing else he's earned himself a fight against the elite of the heavyweight division, and all of them are fights that are must see.