UFC 215 Results: Rafael Dos Anjos proves he is a top welterweight contender
In the co-main event of UFC 215, Rafael Dos Anjos sent a resounding statement to the welterweight division with a dominant submission over Neil Magny.
Rafael Dos Anjos had the chance tonight to really solidify the fact that he is a serious contender in the UFC welterweight division. Despite winning the title at lightweight, the weight cuts pushed him to his limits and forced to seek a change. Dos Anjos already owns a welterweight win over Tarec Saffiendine earlier this year, and tonight needed to really make a statement to jump the line at welterweight.
Neil Magny finally had his chance to tonight to crack into the welterweight elite after 16 fights in the UFC in just four years. Magny's 80-inch reach is one of the longest in the UFC, and he has used that in recent huge wins over Johny Hendricks, Kelvin Gastelum, and Hector Lombard. Magny needed to make a statement tonight over the former champion
Dos Anjos right away wiped out the legs of Magny with a thunderous leg kick that gave him half guard right from the get go. Dos Anjos controlled Magny on the ground for the majority of the round with smart ground and pound and slick ground passes. Dos Anjos had an endless supply of energy and just wouldn't let Magny go anywhere he didn't want him to go.
Dos Anjos worked his way to full mount and waited for an opening. Eventually, Dos Anjos worked his way into an arm triangle and expertly locked in and got the tap with little resistance from Magny at 3:43 of the first round.
It was by far the smoothest performance from Dos Anjos since his title run at lightweight. Magny just could not do anything under the suffocating pressure of Dos Anjos and had no choice, but to tap out.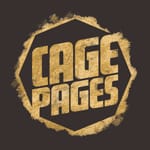 Dos Anjos proved tonight that he is without a doubt one of the top contenders in the welterweight division. Without the draining weight cuts at lightweight sapping him of valuable energy, Dos Anjos looks more muscular and has been far more powerful and efficient. The very first leg kick he threw sent Magny down and he dominated from there. If Dos Anjos can keep these kinds of performances up, it'll just be a matter of time before he fights for the title.