UFC Pittsburgh: Anthony Smith completes comeback against Lombard
Continuing the UFC Pittsburgh main card, Anthony Smith survived slow first two rounds and stole victory in the final round against Hector Lombard
Hector Lombard has not won a fight since 2014 in the UFC. He has had quite possibly one of the worst stretches for a fighter who was doing so well, but it raised some questions, as everything went downhill after his positive test for anabolic steroids at UFC 182 against Josh Burkman.
Since then, Lombard has dropped three straight to Neil Magny, Dan Henderson, and Johny Hendricks. Lombard needed a win tonight to not only get back on track but possibly for his UFC career to continue.
Anthony Smith tonight had the chance to solidify himself not only as a solid UFC roster fighter but as a strong prospect at middleweight. Smith has rattled off two straight impressive wins over Andrew Sanches and Elvis Mutapic, and now for the first time, could add a serious name like Hector Lombard to his resume.
The first round saw Smith immediately landing a front kick up high and Lombard swinging for the finish right away. As the taller fighter, Smith used his front kicks to keep the devastating Lombard away, but Lombard's relentless pressure was able to close the distance and do damage.
Along with winging Smith with haymakers, Lombard chopped the taller man down with clean leg kicks, capping off one of the most all-around striking rounds we've ever seen from Lombard recently.
Lombard continued the pressure with leg kicks, but now using those kicks to find openings in Smith's defence and close the distance.
Despite the five-inch reach advantage, Smith couldn't keep Lombard's power away from and was caught repeatedly. As the round winded down, Smith finally began to open up and briefly dropped Lombard before the end of the round, turning some momentum his way.
Smith was fired up for the final round, he jawed at Lombard and went right after him with a blitz. Lombard, however, did not back down from Smith and was able to turn the tables on pressure and took the fight to Smith. Lombard walked down Smith, but let his guard down as he moved in, which would prove to be a fatal error.
Smith unleashed a picture perfect one-two combination right on the chin of Lombard, dropping him to the ground and into the turtle position, and it didn't take long for Smith to finish the fight from there.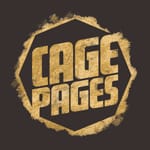 Post-fight, Smith admitted to a slow start, but he didn't let Lombard forget the comments he had made about him on Twitter, asking Lombard if he knew his name now. Smith promised to fix the holes in his game, but also noted that the cut to 185lbs was too much for his body, and likely planned a move to light heavyweight and would prefer a fight against Ovince St.Preux.