UFC Pittsburgh: Justin Ledet remains undefeated
UFC Fight Night 116's main card kicked off with a battle of behemoth heavyweights ready to land the knockout punch
After making his Octagon debut in the first week of Dana White's Tuesday Night Contender Series, heavyweight Zu Anyanwu (14-4-0) jumped at the opportunity to fill in on short notice at UFC Pittsburgh.
In the first fight on the main card, Anyanwu had his work cut out for him against undefeated Justin Ledet (8-0-0).
Anyanwu paced out the center of the octagon early on with the right hand locked and loaded to throw the knockout punch.
Both fighters measure range and test the other's distance throughout the opening two minutes. As Anyanwu tagged Ledet with the right, Ledet stood tall and kept Anyanwu at bay with a mix of jabs to end the first round.
The stand up battle continued to move along at a calculated pace in the second round. Ledet continued to be the fighter with the quicker hands and crisper combinations while Anyanwu had his sights set on the "good night right" knockout punch.
Anyanwu's left eye and nose began to swell as he had little answer for Ledet's constant pressure of jab and left hook combinations.
As the third and final round opened up, Anyanwu came out of the gate firing for the finish. Ledet stayed light on his feet and tried to avoid the big shots and remain awake. Ledet's constant movement helped him keep away from the knockout blow as the final horn rings to end the fight.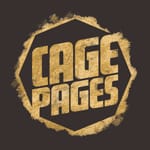 Anyanwu's power is certainly something not many in the UFC's heavyweight division will want to test in the near future. The judges cage side weren't unanimous in their scoring, turning in marks of 28-29, 29-28 and 29-28. Despite the two to one split, Ledet was able to capitalize on his boxing background and three-inch reach advantage to ensure his hand was raised in Pittsburgh.